Our promise to you
Unite insists on the highest professional standards from its panel of solicitors.
By choosing Unite Legal Services to pursue your legal claim, you can be confident that the law firm advising you meets the stringent standards of legal excellence that Unite demands.
It is an achievement for the law firms to be selected to be on Unite Legal Services' exclusive panel.
Unite Legal Services ensures those legal standards are maintained by monitoring that:
Panel law firms are able to clearly and consistently demonstrate expertise and quality in legal issues affecting Unite members.
Panel law firms are committed to Unite and demonstrate empathy with trade union principles.
Panel law firms have their work regularly audited/ inspected and their performance analysed.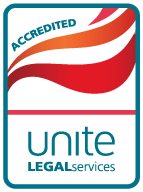 Don't be fooled.
Do not permit high street solicitors to handle your legal claim.
Do not settle for a law firm who will make deductions from your compensation.
Instruct Unite Legal Services to pursue your claim and be confident you will receive LEGAL EXCELLENCE.
Get in touch for expert personal injury advice today on 0800 709 007, or contact your regional Unite office for an employment matter.