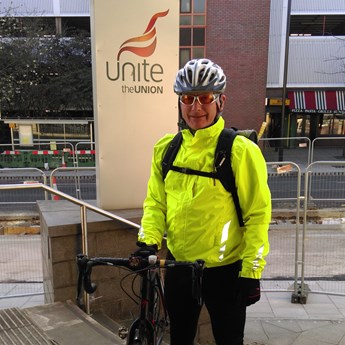 Anthony's story
I am an experienced cyclist and was used to cycling to work every day. This was the first time that I had been in an accident. Unite Legal Services was brilliant from start to finish.
Unite member, Anthony, loved cycling and commuted to work every day by bike.
He had completed the Coast-to-Coast cycle ride from Whitehaven to Sunderland on six occasions and had planned to celebrate his 50th birthday by riding from John O'Groats to Land's End. 
As an experienced cyclist, Anthony was always very careful and respectful of other road users. On the day of the accident Anthony was wearing a high visibility jacket, flashing lights on his arm and ankle and both lights were illuminated on his bicycle.  However, despite these safety precautions, a car drove out in front of Anthony, without looking, failing to see him on his bike, causing Anthony to crash into the side of the vehicle. 
Anthony had to be taken to hospital by ambulance where he was likely to stay overnight for observation, but as a single parent of two daughters and a son, had to return home that evening. As a result of the collision, Anthony's ankle was badly fractured and he had also injured his arm. 
Following the accident, Anthony contacted Unite Legal Services who were able to get an early admission of liability from the car driver and interim payments secured for him.
After two operations to his ankle, Anthony is left with some permanent problems but has fortunately been able to get back to cycling.
Anthony said:
"I am very happy with the compensation that Unite Legal Services was able to negotiate for me. They have been there for me every step of the way. I recommend that everyone use Unite Legal Services. I knew that my union membership would enable me to use its excellent legal services, even if the accident did not happen at work. I hope that other union members realise this and get the benefit of the excellent service provided."    
---
Read the latest news relating to: Road traffic accident claims
More news