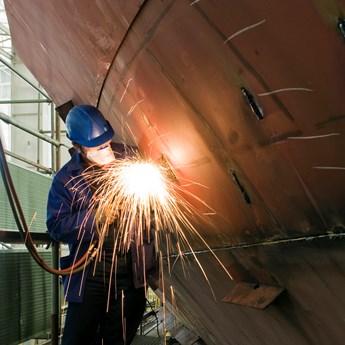 John Hopton's story
Thanks to Unite Legal Services. The professionalism and expertise with which my case was dealt with has led to me receiving more compensation than I expected.
Unite member, John Hopton, was employed as a boat builder when he developed wrist pain, which he attributed to using hand held vibrating tools and carrying out repetitive, heavy manual handling activities.
John, through Unite Legal Services, was contacted by a specialist personal injury solicitor to discuss his case. A number of investigations were undertaken by his solicitor, including obtaining a statement from John and his colleagues regarding the work he carried out on a daily basis. Based on this, it appeared there had been breaches of the Control of Vibration at Work Regulations, together with the Manual Handling Operations Regulation.
Unite Legal Services funded a medical report from a consultant orthopaedic surgeon, which assisted John's case and confirmed that he had developed De Quervain's tenosynovitis as a result of his work activities.

John's solicitor released the medical report to the insurance company acting for his employer, but no response was made by the insurance company and court proceedings were raised in the All Scotland Personal Injury Court on John's behalf. Following court proceedings being raised, Unite Legal Services also funded a report from a consultant engineer which confirmed that John's employer had been in breach of the legal duties towards him for a number of years.
Despite the strength of the evidence against them, the defenders instructed their own medical report, which did not support a diagnosis of occupational injury, and they insisted the action should be abandoned against them. However, the expert instructed on John's behalf, remained supportive of the case and John's specialist personal injury solicitor continued to apply pressure to the defenders to settle the case. Eventually the defenders put forward an initial offer of £5,000, which was rejected. Negotiations continued until settlement was agreed in the sum of £10,000.
Speaking of his experience with Unite Legal Services, John said: 'I am grateful to Unite Legal Services for all their help through this stressful time and have nothing but the highest of praise for them."
---
Read the latest news relating to: Repetitive strain and vibration diseases
More news