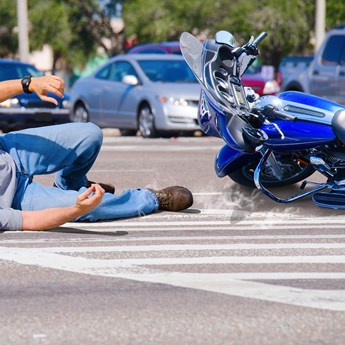 Martin's story
Unite Legal Services supported me throughout my case and I was kept fully up-to-date, which made it a positive experience.
Unite member, Martin Harrison, secured £240,000 in compensation after he was seriously injured in a road traffic accident.
Martin was riding his motorcycle when a driver pulled out and collided into his leg. He suffered injuries including a comminuted fracture of his left tibia and fibula as well as substantial soft tissue damage.
Due to the severity of Martin's injuries, he had a number of operations and is now left with scarring and a three centimetre difference in length between his legs. He has irregularity of the articular surface and is likely to require a knee replacement within 10 to 12 years.
Martin also suffered a fracture of the acetabulum, the socket of the hip bone, which required open reduction and internal fixation.
He was in hospital for six months after his operation and subsequently needed additional surgery including the replacement of his left hip. There is a risk of recurrent dislocation and he will require revision hip replacement surgery in the future.
At the time of the accident, Martin had just returned to work after he was involved in an incident that resulted in him having time off and securing life-changing damages.
He had a pre-accident history of depression and suffered an aggravation of this as a result of the injuries suffered in the road traffic accident.
Unite Legal Services successfully settled the case for Martin, and secured £240,000 in compensation for him.
Martin said:
"Having the support of Unite Legal Services when I had an accident in 2008 was a god send. I was walking along the pavement when a driver lost control of his vehicle and knocked me down resulting in a six week hospital admission.
"When I had my second accident in 2010, I knew as a Unite member Unite Legal Services would put my welfare first. My own motor vehicle insurer's only priority seemed to be my vehicle and repair costs."
---
Read the latest news relating to: Road traffic accident claims
More news