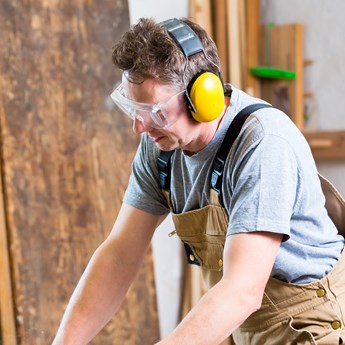 Matthew's story
When I was diagnosed with hearing loss and tinnitus I contacted Unite Legal Services, and as I was still a retired member they took my case on.
Retired Unite member, Matthew*, developed noise-induced hearing loss and tinnitus after being exposed to excessive noise levels while working for seven different employers.
With support from Unite Legal Services, Matthew has secured £13,750 in compensation from the insurers of six of his previous employers, even though some of the businesses are no longer trading.   
Matthew left school at the age of 15 and became an apprentice fitter; he went on to work for a number of employers in factories as a production operator and supervisor. During the early years of his employment he was not provided with any hearing protection and was not trained on the risks associated with noise exposure.
By the 1990s, he had been provided with some basic hearing protection but he was not given any information on the risks associated with noise exposure. The wearing of ear protection was also considered optional.
Five years after his retirement Matthew became aware of a ringing noise in his ears and a loss of hearing. He sought medical advice from his GP and was referred for assessment. He was subsequently diagnosed with hearing loss and tinnitus as a result of his noisy work environments.
He had not been aware that a claim could be brought for tinnitus but he contacted Unite Legal Services and its legal team started investigations.
Matthew said:
"I first became aware of a problem with my hearing when I started to notice a buzzing sound. At the start I thought that there was a problem with the TV and I found myself turning up the radio to try and get rid of the noise. 
"My case was difficult because I had worked for so many employers and some of them were no longer in business. Unite Legal Services handled my case really well. I was very pleased with the outcome and impressed with its professional services throughout."
*Names may have been changed to protect the identity of our member.
---
Read the latest news relating to: Industrial disease claims
More news