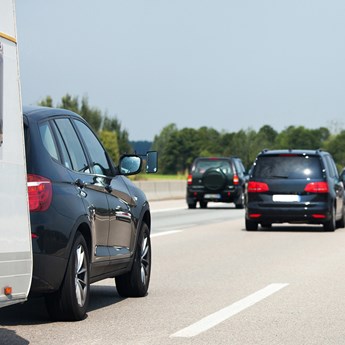 Mr Dring's story
I was heading off on holiday when another car suddenly collided with ours. With no independent witnesses and the other driver denying liability, I am so thankful that the legal support from Unite Legal Services goes above and beyond matters at work.
Mr Dring suffered prolonged shoulder, leg and whiplash injuries after a car drove into the side of his vehicle on a dual carriageway while he and his wife were setting off on holiday.
As the two vehicles collided, Mr Dring's car was thrown towards the hard shoulder at such a force that it caused the caravan he was towing to jackknife. 
Mr Dring suffered an exacerbation of pre-existing neck and lower back problems, post-traumatic stiffness in his shoulder and inflammation of his left knee. His car and caravan were damaged beyond repair.
Due to a lack of independent witnesses and the other driver denying all responsibility for the collision, Mr Dring faced the very real possibility of being found partly to blame for the accident.
As a member of Unite, Mr Dring was entitled to legal support and representation, at no cost, for his road traffic accident. He contacted Unite Legal Services, and was put in touch with a specialist road traffic accident solicitor who helped him to secure compensation in full.
Mr Dring said:
"I'm an experienced HGV driver and have spent a big part of my life driving, but nothing prepares you for the shock and trauma of a road accident.
"I was so worried that I'd be forced to shoulder part of the blame for an accident that wasn't my fault. I knew that if I went to a high street solicitor they would push me to settle early and I would lose out. From the outset, Unite Legal Services made sure that not only was I fairly represented but that no stone was left unturned to ensure I got the compensation I was entitled to."
---
Read the latest news relating to: Road traffic accident claims
More news