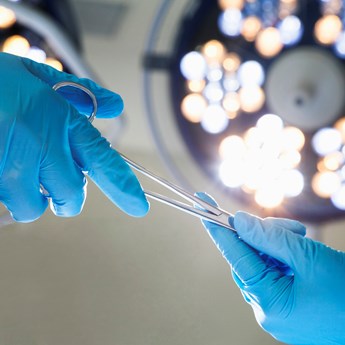 Sarah M's story
There were no words for how I felt when I heard what had happened.
Sarah Mason, 34, underwent surgery carried out by disgraced breast surgeon Ian Paterson in 2009 to relieve debilitating breast pain, which he claimed was caused by duct blockage. The surgery failed to relieve the pain, and Sarah later discovered her discomfort was caused by hormones and easily treated with medication. 
"I had been to the GP, who said it was probably hormonal but worth investigating, and referred me," she said. "I spoke to Spire Healthcare Parkway on the Friday morning and was seeing Mr Paterson that afternoon." 
Following an examination and ultrasound, Paterson told Sarah that lumps of tissue inside the breast ducts were preventing them from draining and that was causing the pain. 
"It sounded logical," she said. "He was using language that sounded within the realms of possibility, he was personable and reassuring, and so I was happy with his explanation. He recommended removing two small lumps, three millimetres in size, and said while it didn't look like they were cancerous or pre-cancerous, he would test them." 
Within a couple of weeks, Sarah had surgery under general anaesthetic, during which Paterson removed 244g of tissue, far more than he had originally mentioned. He told Sarah there was nothing of concern in the test results, so when the pain remained she again sought his advice. 
"He said maybe the scar tissue, caused by the surgery, was blocking drainage now and causing the pain, and there was nothing more that could be done," she said. "I wasn't happy with the outcome but what could I do? I didn't deal with him again. 
"When I went back to the GP and explained what had happened, they suggested changing my contraceptive pill. I did that and it relieved my pain almost straight away. I never needed the surgery." 
Sarah discovered Paterson had been suspended when, in 2014, she became pregnant and called Spire to inquire what impact her surgery may have on her capacity to breastfeed. 
"There were no words for how I felt when I heard what had happened," she said. "Not only did he perform the surgery unnecessarily, but he told me he would be removing two small lumps and they told me that during the surgery he actually removed far more. So he lied about what he was actually going to do, didn't tell me this afterwards, and I was left with lopsided breasts. 
"I was shocked that someone could get away with this for so long, but what's worse is that Spire only told me because I decided to call them – would they have ever told me if I hadn't? I was pregnant and I had no idea if I could breastfeed my first child, because of this man." 
Sarah went on to successfully breastfeed, although with difficulty. As her husband was a Unite member, she contacted Unite Legal Services to investigate a compensation claim. 
Sarah said:
"I am disappointed at the way this has been handled by Spire Healthcare and the General Medical Council, who seem to be trying to wipe their hands of it," she said. "It has made me determined to ensure neither he nor they get away with what has happened. If a hospital is not responsible for ensuring the professionals working on its premises are acting ethically and responsibly, then who is?"
---
Read the latest news relating to: Clinical negligence claims
More news