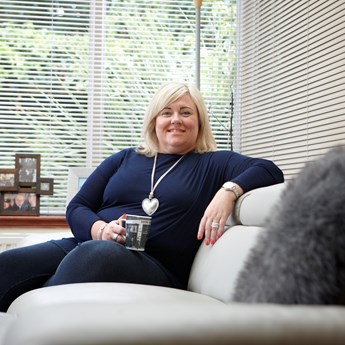 Sarah Thompson's story
When Spire Healthcare Parkway got in touch to tell me they'd had to hand my details to the police, I felt sick.
In 2009, Unite member Sarah Thompson underwent surgery on the advice of one of the West Midlands' most revered surgeons for suspicious changes to her breast.
Terrified she had cancer, but relieved to be in the hands of a surgeon she trusted, when the former flight attendant emerged from the surgery badly bruised, and later developed an infection, she focused on how fortunate she was to have private health insurance.
But eight years later, the 50-year-old Unite member is one of hundreds of women who is making a claim for compensation for surgery performed by disgraced breast surgeon Ian Paterson, after discovering she had never needed an operation.
"When Spire Healthcare Parkway got in touch to tell me they'd had to hand my details to the police, I felt sick," she said. "Ian Paterson put me through a rollercoaster of emotions, and surgery I should never have experienced."
Sarah has since been told that not only was her operation unnecessary, Paterson never actually sent any of her tissue samples to be analysed by pathologists in the first place.
In May, at Nottingham Crown Court, Paterson was sentenced to 15 years imprisonment for 17 counts of wounding with intent and three counts of unlawful wounding, related to 10 patients. He has now been exposed as having exaggerated or inventing cancer risks to convince patients they needed surgery.
Sarah knew Paterson by reputation, as he had operated on her mother three times, so when her GP recommended referring her to a specialist about an anomaly on her breast in October 2009, she wasted no time in calling for an appointment with him. He agreed to see her the same evening.
After a mammogram and ultrasound Paterson recommended surgery to remove a blockage he said could have been a small cancer. She had the surgery the following Wednesday, and was off work for two months recovering losing a significant proportion of her income.
"The surgery left my breast black and blue, and it became infected," Sarah said. "I had to keep going back to have the dressings changed. But all that went through my mind was how fortunate I was to have had the operation so quickly and to be in the hands of someone we trusted."
After an anxious wait, Paterson told Sarah her pathology tests had come back clear – she didn't have cancer. But a year later, she found herself back in Paterson's office having more tests as the same problem had reoccurred. This time, she says, he quickly shifted his focus to a cyst she had on her other breast.
He was keen to operate to remove it the following week, claiming it was infected, but Sarah was anxious about undergoing more surgery and sought further opinion from two GPs before refusing to go ahead.
Sarah said:
"I thank my lucky stars for whatever it was that made me stand up to him the second time around," she said. "I decided to join this group taking legal action against Paterson, not for financial gain but because I have been violated.
"I try to stay upbeat, I don't like feeling angry because that only impacts me and my daily life. I feel the private healthcare system has let me down because there weren't enough checks and balances in place. I want Spire to be held accountable for what they allowed patients to be put through and for their inexplicable refusal to accept any blame – all they seem to want to do is pass the buck."
---
Read the latest news relating to: Clinical negligence claims
More news