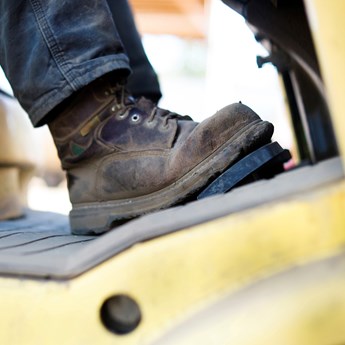 Andrew T's story
Unite Legal Services provided a very professional service and I was kept well informed throughout the course of my claim.
Andrew was involved in an accident while working as a forklift driver for Ashleigh Construction. As part of his duties, he was required to move materials around a three-tiered construction site with a forklift.
Andrew was driving down the top tier – which had been narrowed by his employer due to the drainage system – and found the path was very steep. As he turned to the left, his forklift tipped over and he suffered a blunt head injury with an open wound over the back of the scalp. He also suffered a neck sprain injury and had soft tissue injuries in both limbs.
Through Unite Legal Services, Andrew was contacted by a specialist personal injury solicitor to discuss his case.
Due to the specialist knowledge of the solicitor, they were able to persuade the insurance company to accept liability in respect of the accident.
Unite Legal Services also funded a medical report from a consultant in emergency medicine, which assisted Andrew's case by setting out the injuries he sustained in the accident.
Negotiations commenced between Andrew's solicitor and the insurance company until a £4,750 settlement was agreed. As this case was funded by Unite Legal Services, Andrew retained 100 per cent of his compensation.
He said: "I was very happy with the outcome of my case and would recommend Unite Legal Services."
---
Read the latest news relating to: Accidents at work or away from work
More news