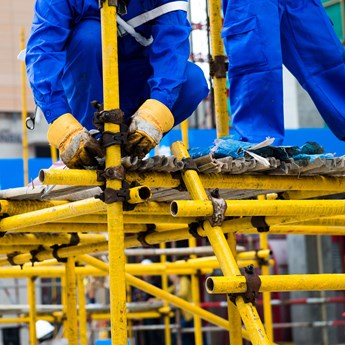 Barry's story
Thanks to the experts at Unite Legal Services I have a substantial sum of compensation to help me and my family to overcome the devastating effects of my spinal injury.
Barry suffered a life-changing spinal injury after a colleague dropped a scaffolding pole from a height, which struck him on the neck and caused his spine to fracture in two places.
Barry was working as a welder in a boiler room at Runcorn Thermal Power Station when he was injured. He was bending down to collect a set of tools when a colleague dropped the scaffolding pole from two floors above him. The pole hit Barry's neck with considerable force.
He was rushed to hospital where he spent six days having MRI and CT scans, which confirmed the severity of his injury. Barry was confined to a neck brace for three months and needed 10 months off work.
After his accident, he returned to work but his spinal injury limited his mobility and the tasks he was able to do. His injury ultimately led to the end of his career when his employer, Interserve Industrial Services, terminated his contract.
Unable to find alternative employment as a welder due to his physical restrictions, Barry turned to Unite Legal Services for advice.
Working with a dedicated serious injury solicitor, Unite Legal Services proved that Barry's employer was accountable for the actions of the other employee – they were what is known in law as vicariously liable for the other employee's negligence. Unite Legal Services went on to secure £150,000 in compensation for Barry.
Barry said:
"When you're the victim of a serious injury you need all the help and support you can get. To say that I'm relieved I had the backing of Unite Legal Services is an understatement. After my accident, my colleagues saw how well I was looked after by my trade union and registered to become Unite members themselves.
"My life has completely changed and I know I won't ever fully recover from the incident, but Unite Legal Services has helped to stabilise my future. My employers should have made sure that that there was a safe system of work in place for us – they didn't and unfortunately I'm the one who has paid the price."
---
Read the latest news relating to: Accidents at work or away from work
More news