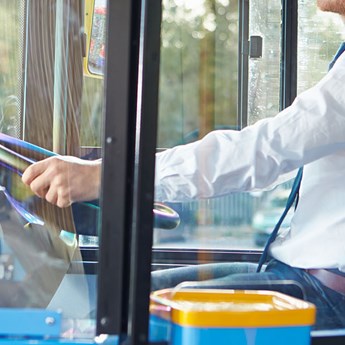 David B's story
I'm really pleased I was able to get the support I needed through Unite Legal Services to win my case.
A bus driver, who was injured by a faulty door on the bus he was driving, has won compensation through Unite Legal Services.
David Bell, who worked as a driver for Stagecoach, injured his shoulder as he was about to start his shift when he noticed that the doors on his bus were not working properly.
After reporting the problem to a supervisor, he was ordered back onto the bus, at which point the doors closed behind him. In order to get off the bus he had to force the doors open, causing him to injure his right shoulder.
David contacted Unite Legal Services to investigate a claim for compensation. At first, Stagecoach denied liability for David's injury and the case was listed for trial, but Unite Legal Services was able to secure a settlement for him instead.
David said:
"At the time of the accident, it was very stressful. It was just before Christmas, and I wasn't sure if I was even going to get paid for the time I had to take off sick.
"I'm really pleased I was able to get the support I needed through Unite Legal Services to win my case."
---
Read the latest news relating to: Accidents at work or away from work
More news