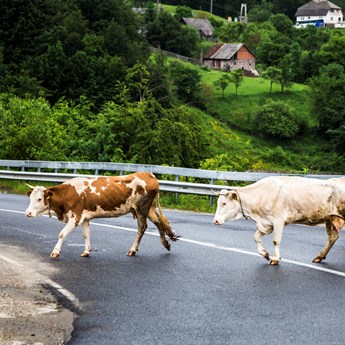 David L's story
I found Unite Legal Services to be a very straightforward service in which it was easy to submit a claim.
David was at work when he was involved in a road traffic accident.
He was driving down a quiet country lane in dark but dry conditions. David drove around a bend and as he did so, saw the silhouette of some farm animals on the road in front of him.
He immediately braked, but was not able to stop in time and subsequently collided with three cows. His vehicle crashed into a ditch and was written off.
In the accident, David suffered soft tissue injuries to his neck, shoulder and collar bone.
After the crash, David was approached by a police officer who told him that he and a farmer were herding approximately 200 cattle across a road as they had escaped.
David contacted Unite Legal Services to discuss his case. A settlement was negotiated with the insurance company acting on behalf of the farmer. No court action was required, which meant that he was able to secure his compensation quickly, and without the need to attend at court.
David said:
"I would definitely use Unite Legal Services again if I had another claim, especially as no deduction was taken from my compensation total."
---
Read the latest news relating to: Accidents at work or away from work
More news