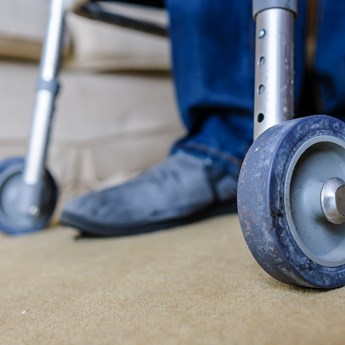 Hazel's Story
I am delighted at the outcome of my claim and would recommend everyone to join Unite as you never know what may happen to you.
Hazel was involved in an accident while working as a support worker. On the day of her accident, she was taking a service user shopping, in line with the care plan devised by her employer. The service user was using his three-wheeled rollator with the brakes applies. As he walked down the street, suddenly, and without warning, he fell and knocked over Hazel who fell to the ground and sustained injury.

Hazel, through Unite Legal Services, was contacted by a specialist personal injury solicitor to discuss her case. A claim was brought against her employer on the basis that a suitable and sufficient risk assessment would have identified the needs of the service user and his limited mobility. An adequate risk assessment would have implemented appropriate control measures, such as use of a wheelchair on uneven ground. In light of this, liability was accepted by the insurers which meant Hazel was able to obtain settlement efficiently and without the need for court proceedings.
Unite Legal Services funded a medical report from a consultant orthopaedic surgeon who assisted Hazel's case by setting out the injuries which she sustained purely as a result of the accident. Hazel suffered a non-displaced tibia plateau fractured which healed over nine months with residual symptoms. She had a claim for loss of earnings, services, and miscellaneous expenses.

Negotiations commenced and an initial offer of £15,000 was made and rejected. Negotiations continued until an increased offer of £20,000 was made and accepted by Hazel. As this case was funded by Unite Legal Services, Hazel retained 100% of her compensation.
"I could not have asked for better service and Unite Legal Services have been fantastic."
---
Read the latest news relating to: Accidents at work or away from work
More news