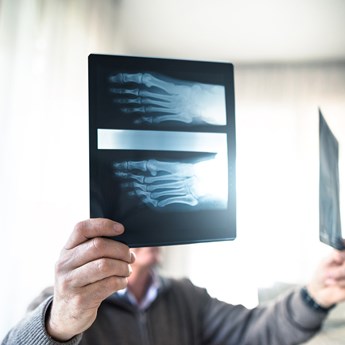 James R's story
Thanks to the support of Unite Legal Services, I have now received compensation for my accident and my employer has been forced to change its working practices, making my workplace safer for all of my fellow colleagues going forward.
Unite member, James Rankin, was involved in an accident while employed as a material forklift driver. 
On the day of the accident, James was moving steel coils with a crane from one department to another. He unhooked a steel coil from the crane and, as he walked away from it, the coil suddenly toppled over and landed on his foot.    
As a result of the accident, James fractured two toes and had soft tissue damage to his left foot.  
Due to the negligence of James's employer, he was subjected to unsafe working practices. His employer was already aware that it was common practice to leave these steel coils standing upright without any measures in place to make sure that they did not fall over.  
Through Unite Legal Services, James had access to a specialist personal injury solicitor to discuss his case. A claim was put forward to his employer, with liability denied by its insurance company on the basis that he was not carrying out the job the way in which he was trained. 
Unite Legal Services funded a medical report from a consultant orthopaedic surgeon, which assisted James's case by setting out the injuries which he sustained in the accident. The solicitor also obtained witness statements from his colleagues to confirm that James was carrying out the job in the correct manner. 
Following the presentation of this evidence, an offer of £5,477 was put forward to James, which was rejected. A further offer of £6,000 was made to James and accepted. As a member of Unite, James was able to keep 100% of his compensation. 
Following the case, James's employer changed working practices and all employees were re-trained to prevent this type of accident happening again.
James said:
"Thank you to Unite Legal Services for all of its help. I would have no hesitation in recommending this service."
---
Read the latest news relating to: Accidents at work or away from work
More news