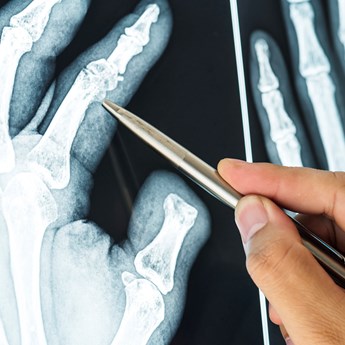 John Wotherspoon's Story
The service provided by Unite Legal Services was superb from start to finish.
John was employed as a slater when he was involved in an accident at work. On the day of the accident, John was tasked with repairing a damaged stone pillar at the entrance to a park, which had been damaged in a car accident. It was unsafe and unstable.
As John was moving one of the stone blocks from the pillar, his right middle finger became trapped. John had not received appropriate training or equipment to dismantle the pillar.
Through Unite Legal Services, John was contacted by a specialist personal injury solicitor to discuss his case. Unite Legal Services funded a medical report from a consultant orthopaedic surgeon, which assisted John's case by setting out the injuries he sustained as a result of the accident at work. The medical expert confirmed John had suffered a crush injury, which resulted in a fracture and needed surgery.
John had ongoing nerve damage, cold intolerance and slight deformity as a result of his injury. He also has ongoing loss of grip strength, meaning that John is restricted in the labour market, particularly as his employment was subsequently terminated.
Through Unite Legal Services, John accessed legal advice from a specialist solicitor, ensuring his case was dealt with as effectively as possible.
Given the potential value of the case and the delay in any proper response from the insurers of John's employers, the decision was made to raise court action in the All Scotland Sheriff Personal Injury Court.
Having done so, John's solicitor then obtained a psychiatric report from a consultant psychiatrist who confirmed that, following his accident, John developed an adjustment disorder with depressed mood and provided a prognosis period of two years.
A further expert report was obtained, which confirmed John's loss of earnings and pension due to the accident.
The defenders made an initial offer of £75,000, which was rejected. Negotiations continued until the settlement of £125,000 was agreed, which John was happy to accept.
He said: "Thanks again to Unite Legal Services for the absolutely brilliant service provided. I would have no hesitation in recommending this service."
---
Read the latest news relating to: Accidents at work or away from work
More news