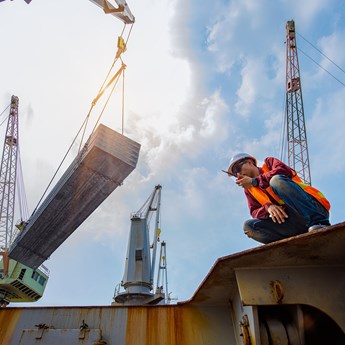 Katy's story
I was extremely happy with the support from Unite Legal Services.
Katy was employed as a Roustabout with Ensco Offshore UK Limited. She was assisting with a lifting operation when the banksman gave the instruction to the crane operator to lift the load. As the load was lifted, it collided with a two-ton basket, which was positioned too close to the lifting operation and the basket fell on Katy's foot, causing a significant injury.
Katy, through Unite Legal Services, was contacted by a specialist personal injury solicitor to discuss her accident.
Following intimation of a claim, liability was accepted by the insurers.
Katy suffered a crush injury to her foot with fractures to multiple joints. The medical evidence confirmed she was left with permanent pain and weakness.
As part of Katy's claim, we claimed for disadvantage on the open labour market on the basis that she may lose her employment and would struggle to find alternative employment that may involve heavy lifting or being on her feet or prolonged periods of standing.
A settlement was eventually agreed for £50,700.
As this case was funded by Unite Legal Services, Katy kept 100% of her compensation.
Katy said: "I would highly recommend Unite Legal Services as they are not only extremely professional, but showed their care towards me, throughout the whole process."
---
Read the latest news relating to: Accidents at work or away from work
More news