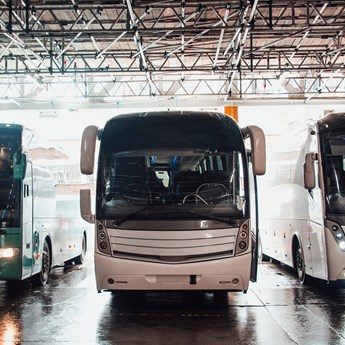 Kenneth D's story
"The service I was given by Unite Legal Services was very professional. I was kept up-to-date with proceedings and I am happy with the outcome."
Kenneth was involved in an accident during the course of his employment as a fueller shunter. On the day of the accident, Kenneth was working in the bus depot. He advised the driver of a bus that he was going to move another bus behind it, so that the buses could be parked appropriately. In order to do so, he had to walk between the bus occupied by the driver and the bus he was required to move. While he was walking between the buses, the driver moved the bus and collided with him, which resulted in Kenneth suffering with rib and pelvic fracture injuries.
Due to the fault and negligence of Kenneth's employers, he was subjected to unsafe working practices and the employer was considered to be vicariously liable for the bus driver who hit him.
Kenneth, through Unite Legal Services, was contacted by a specialist personal injury solicitor to discuss his case. A claim was initiated and his employer's insurers were persuaded to admit liability for the accident. However, they also argued that there should be a degree of contributory negligence as they stated Kenneth should not have been moving behind the vehicle.
Unite Legal Services funded a medical report from a consultant orthopaedic surgeon who assisted Kenneth's case by setting out the injuries which he sustained purely as a result of the accident at work. The expert confirmed Kenneth had sustained three cracked ribs and a fractured pelvis.
Following disclosure of the medical report, an initial offer of £8,667 was made, but this was considered to be too low and court action was raised in the All Scotland Sheriff Personal Injury Court in order to progress matters for Kenneth.
Throughout the duration of the court proceedings, there were a number of offers made, which started at £14,000 and gradually increased until a £40,000 settlement was agreed. Kenneth was happy to accept this sum which represents a good outcome for his case.
As this case was funded by Unite Legal Services, Kenneth was able to access proper legal advice from a specialist solicitor and retained 100% of his compensation.
"The service I was given by Unite Legal Services was very professional. I was kept up-to-date with proceedings and I am happy with the outcome."
---
Read the latest news relating to: Accidents at work or away from work
More news