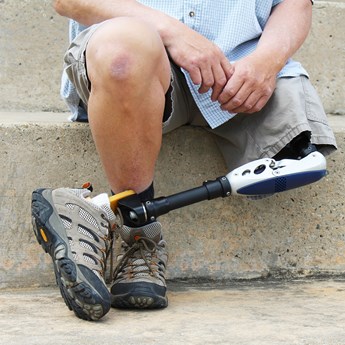 Ken's story
"Since the accident it's fair to say that my life has been turned completely upside down."
With the specialist support of Unite Legal Services, mechanical fitter Ken Brown received more than a million pounds in compensation after his leg was amputated above the knee because of an injury he suffered in an accident at work.
Ken was subcontracted by his employer to a site in Cumbria and on the day of the accident he was working as a banksman, although he had not been given any training to do this job. As a banksman, Ken walked ahead of his colleague who was driving a cherry picker to indicate when it was safe for the colleague to move.
The cherry picker driver had not been trained either about how to work with a banksman, so they did not know that the vehicle should be stopped as soon as the banksman is out of their line of sight.
As Ken reached a junction he stopped walking and raised his hand as a signal to tell his colleague to stop. Unfortunately, his colleague didn't see the signal in time and drove into him, crushing his leg under the machine.
Ken lost consciousness and was taken to hospital where he had his leg amputated below the left knee in an emergency operation. However, the area above the knee became necrotic, forcing doctors to amputate the leg, further up above the knee.
Ken was intensive care for six weeks before being transferred to another community hospital, and was eventually discharged home after four months.
Ken said:
"Since the accident it's fair to say that my life has been turned completely upside down."
His injuries have left him reliant on care from his son, Colin. He uses a wheelchair and a prosthetic limb to move around his bungalow, which had to be adapted to his needs.
He contacted Unite Legal Services to investigate a claim for compensation.
Ken added: "My son has quit his job to become my carer and without his help I have no idea how I would cope. I am reliant on him for almost everything - cooking, dressing and using the toilet – it's so frustrating.
"I used to be a fit and healthy man and it was taken away from me because my employer didn't take the time to train staff on how to properly use a dangerous piece of machinery.
"I know that I will need to be looked after for the rest of my life, not just physically but mentally too, which isn't an easy thing to accept, but I am very grateful to Unite Legal Services for all that they have done to ensure that I am in the best position possible to deal with my injury." 
---
Read the latest news relating to: Accidents at work or away from work
More news