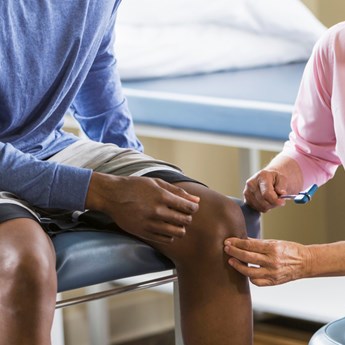 Kieron's story
Unite Legal Services was very helpful to me
Unite member, Kieron, was involved in an accident during the course of his employment as a warehouse operative at WM Morrison in Stockton-On-Tees.
He was using a stand-on truck to unload a trailer of empty trays and pallets on which there was a metal platform called a 'dot plate', used to bridge the gap between the trailer and the loading bay.
The dot plate was not flush with the bed of the trailer, and when Kieron drove over it his loading truck bounced off it, causing his left knee to jolt.
Kieron suffered pain to his knee which showed no sign of improvement and, despite managing to continue working, he visited his GP to address his pain. He was eventually referred to a specialist who diagnosed a tear inside the knee and he had surgery, which improved his symptoms.
Kieron contacted Unite Legal Services and was put in touch with a specialist personal injury solicitor to investigate a compensation claim.
He received damages in respect of his injury, loss of earnings and expenses. As his case was funded by Unite Legal Services, Kieron retained 100% of his compensation.
Kieron said:
"The assistance I received from Unite Legal Services with regards to my claim has been great and I am very pleased the help I have had."
---
Read the latest news relating to: Accidents at work or away from work
More news