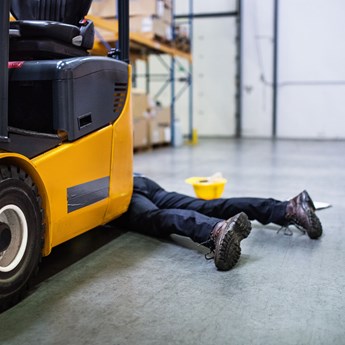 Nairn's story
Without Unite Legal Services, I would not have got my injury claim settled.
Nairn works for Forsyths as a semiskilled labourer.
He was working in the wash bay where a vessel, which had already been cleaned, was taking up space and needed to be moved. The vessel needed to be moved by a forklift, so Nairn approached a forklift truck as it was stationary. As he walked around the vehicle to speak to the driver, the forklift truck driver turned the wheel of the forklift truck and drove it forwards, driving over Nairn's feet and knocking into him, causing him to fall over.
Nairn, through Unite Legal Services, was contacted by a specialist personal injury solicitor to discuss his case. Based on the information provided by Nairn, his solicitor was able to proceed with a claim on his behalf.
Following intimation of a claim, his solicitors were able to persuade the insurers to accept liability.
A medical report was instructed from Mr Robert Clayton who confirmed Nairn suffered a fracture to his great toe, significant soft tissue injury to his left forefoot with degloving and a significant soft tissue injury to his right ankle with significant degloving. On Mr Clayton's recommendation, Unite Legal Services also obtained a report from a consultant plastic surgeon relative to the scarring.
Following disclosure of the medical evidence, a settlement of £60,000 was agreed. As a Unite member, Nairn kept 100% of his compensation.
Nairn was delighted with the outcome of his claim. He said: "I cannot thank Unite Legal Services enough for all their help in getting my injury claim settled. They kept me up to date at every stage of the claim."
---
Read the latest news relating to: Accidents at work or away from work
More news