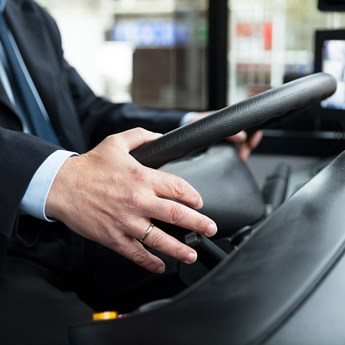 Neil R's story
I would like to thank Unite Legal Services for everything they have done for me. I really felt that I could rely on them throughout my entire claim.
Bus driver, Neil, was driving in Washington, Tyne and Wear, when a vehicle emerged from a side road and collided with the rear of his bus.
He was jerked forwards in the accident and his bus was deemed unserviceable when he returned to his depot.
He was off work for five days and needed to have physiotherapy to treat his neck and shoulder pain. He continued to suffer pain while driving his bus after he had returned to work.
Neil already had some arthritis in his shoulders but his pain became worse as a result of the accident.  
Unite Legal Services arranged for him to be seen by a medical expert who said that his pain should resolve itself by 12-15 months after the accident.
The Defendant's insurer did not admit or deny liability. Unite Legal Services was able to ensure that the case was not unduly delayed because of them.
After negotiations, and the rejection of low offers of compensation, Neil was able to agree an amount that recompensed him for his injuries and losses.
Neil said:
I want to thank Unite Legal Services for advising me throughout my claim and for settling it for the highest amount possible.   
---
Read the latest news relating to: Accidents at work or away from work
More news