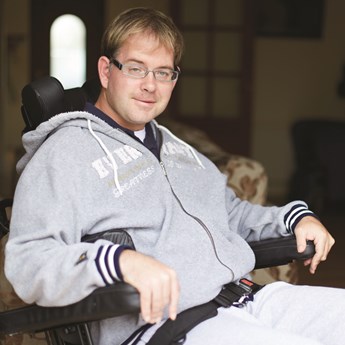 Patrick O's story
I was devastated when Patrick had his accident. He was only 29 at the time and had all his life ahead of him, but some wrong bolts trashed his future.
Patrick O'Malley from near Goole spent four years in hospital after he was seriously brain damaged following an accident at work.
Patrick fell 20ft when a scaffolding gantry, designed to hold weights of up to a tonne, collapsed with just him on it.
The platform had been built using the wrong type of bolts, and the bolts failed when Patrick stood on it.
As a result, Patrick suffered catastrophic injuries and his family were told initially that he would not survive.
Despite making considerable improvements he is still severely disabled. Patrick's brain injury affected his ability to walk, talk and use his upper limbs. However, he has made significant improvements and is now able to walk with assistance, talk and has use of his upper limbs.
Unite Legal Services represented Patrick following his devastating accident and secured several interim payments and a final compensation package for him. His employer eventually settled the claim out of court almost five years after Patrick fell from the scaffolding gantry.
Patrick's mother, Maisey, said:
"At first we had to get our heads round the idea that he wouldn't survive but after four years of intensive rehabilitation in hospital Patrick has been able to return home with full-time care.
"The interim compensation secured by Unite Legal Services meant we were able to adapt a bungalow to suit Patrick's disability. This full award will mean his needs will be provided for the rest of his life."
---
Read the latest news relating to: Accidents at work or away from work
More news