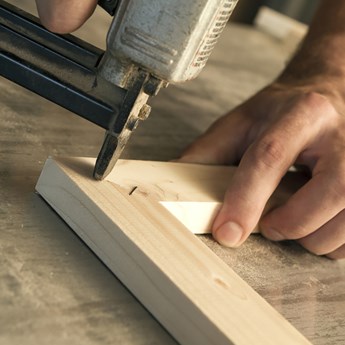 Patrick's story
I think most high street solicitors would have walked away from a complicated, drawn out case like mine. But Unite Legal Services fought for me for six years to make sure my amputation wouldn't negatively affect the rest of my life.
Patrick, who worked as a joiner, was injured at work while making wooden pallets. He fired a nail gun into the corner of a pallet, and the nail hit a knot in the wood and ricocheted back into the joint of his left index finger.
He was rushed to hospital and had an operation to remove the nail and clean the damaged tissue from his finger. But just months after the accident, Patrick suffered from an infection and needed further surgery. Two years, and four operations later, Patrick's finger had to be amputated.
The amputation itself caused significant nerve damage to the knuckle bone, resulting in a need for even more surgery, and taking the total number of operations that Patrick had to endure to nine.
He turned to Unite Legal Services for advice on how to seek compensation fearing years of pain, suffering and disruption to his life.
Unite Legal Services worked with Patrick to build a case to prove that his employers were solely to blame for his accident – despite the company denying liability – because they failed to train him on how to safely and securely stabilise the pallets before he began his work.
Patrick's case went all the way to trial where Unite Legal Services secured a significant amount of compensation for him.
Patrick said:
"A six year legal battle, eight operations and I'm still suffering. My accident has put an end to my career as a skilled joiner. I will be on painkillers for the rest of my life and I've been forced to claim incapacity benefits.
"My employer left me hanging out to dry. I was seriously injured by this accident and they allowed it to happen. I turned to Unite Legal Services who stuck by me throughout this long-fought battle. Their expertise got me the positive result I desperately needed to help me try to move on after such a terrible period of my life."
---
Read the latest news relating to: Accidents at work or away from work
More news