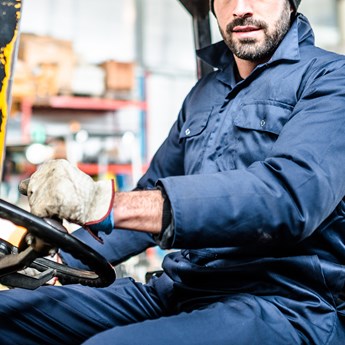 Peter's story
"I had absolutely no concerns whatsoever throughout the process."
Unite member, Peter, was involved in an accident during the course of his employment as a forklift driver at a transport company.
Peter's forklift truck was fitted with a terminal screen that had sharp pointed edges. On the day of the accident, Peter was getting into the truck when he struck his head on the screen.
Due to his employer failing to provide Peter with adequate safety equipment, he suffered a laceration to the head which needed stitches and left him with residual scarring.
Through Unite Legal Services, Peter had access to a specialist solicitor and a compensation settlement was secured for the sum of £25,000.
As this case was funded by Unite Legal Services, it meant that Peter was able to retain 100% of his compensation. He accessed legal advice, ensuring that negotiations relating to his case began in early course.
Unite Legal Services also ensured that the correct steps were taken in order to achieve a suitable settlement for him.
Peter said:
"The legal assistance provided through Unite Legal Services met my expectations. I had absolutely no concerns whatsoever throughout the process as I was confident that my case was being dealt with efficiently."
---
Read the latest news relating to: Accidents at work or away from work
More news