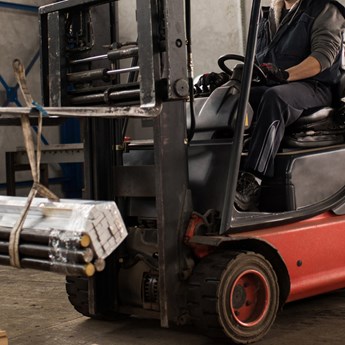 Reuben's story
Thanks to the support of Unite Legal Services I have now received compensation for this accident and look forward to moving on with my life.
Reuben had the backing of Unite Legal Services after he was involved in an accident at work. 
Employed as an HGV driver, Reuben was delivering steel to a depot and helping a forklift driver to move steel packs from the back of his lorry when the driver dropped a pack of steel on Reuben's left hand. 
Following the accident, an investigation was carried out by the Health & Safety Executive and contravention notices were served to the depot for its failure to use the proper equipment to offload the steel packs, and for its failure to carry out a risk assessment for the task. 
Reuben, through Unite Legal Services, was represented by a specialist personal injury solicitor during his case. 
The depot's insurance company denied liability. Unite Legal Services funded a medical report from a consultant orthopaedic surgeon, which assisted Reuben's case by setting out the injuries he sustained as a result of the accident. 
The report confirmed he had fractured his left index and middle fingers and that he would be left with some permanent sensitivity in his fingers. He needed physiotherapy after the accident.  
Reuben's solicitor raised court proceedings on his behalf in the All Scotland Personal Injury Court. Shortly after proceedings were raised, the solicitors who were dealing with the case on behalf of the depot made an offer of £16,000. This offer was discussed with Reuben and he accepted.   
Reuben said:
"I would like to thank Unite Legal Services for all of its help. I would not have been able to do it without them."
---
Read the latest news relating to: Accidents at work or away from work
More news