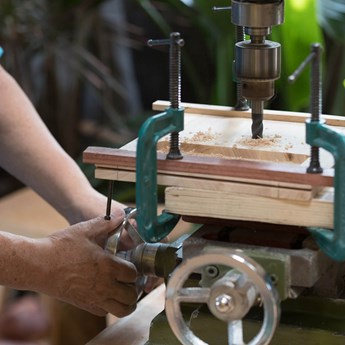 Richard C's story
Being a Unite member gives you access to the best legal services available. The service provided was excellent throughout.
Richard*, a Unite member, received £16,000 in compensation after his employers failed to provide him with suitable equipment, which led to him suffering an accident at work while employed as a turner.
On the day of the accident, Richard was operating a lathe machine when one of the pipes moved. He leaned over to adjust this but as he did, strands from his frayed overalls became caught on the machine. The overalls wrapped tightly around Richard's right arm, causing sustained injuries.
As a result, Richard's ulnar nerve in his right arm was crushed and he needed surgery. Despite this, he still experiences some symptoms.
Due to the fault and negligence of Richard's employers, he was subjected to unsafe working practices. Richard did not have adequate personal protective equipment (PPE) to wear while carrying out this job and his overalls were in a poor state of repair.
Richard, through Unite Legal Services, was contacted by a specialist personal injury solicitor to discuss his case. A claim was intimated to his employers and liability was admitted by their insurance company at a pre-litigation stage. However contributory negligence was argued.
Unite Legal Services funded a medical report from a consultant trauma and orthopaedic surgeon which assisted Richard's case by setting out the injuries he sustained purely as a result of the accident at work.
Negotiations commenced between Richard's solicitor and the insurance company. An initial offer of £11,000 was put forward in full and final settlement of Richard's case. This offer was rejected and it was decided that court proceedings should be raised in his case in order to achieve a better settlement.
Court proceedings were raised in the All Scotland Personal Injury Court on behalf of Richard. Shortly after the case was raised in court, the solicitors who were appointed to act on behalf of Richard's employers made a formal offer in the sum of £15,000. This offer was discussed with Richard and it was rejected. A counter-proposal was made by Richard's solicitor and an increased offer was put forward to him in the sum of £16,000. This offer was discussed with Richard and he accepted the offer as it represented a fair settlement for his claim.
Richard said: "Thank you to Unite Legal Services for all of their help. I cannot praise them highly enough and would recommend their services. Being a Unite member gives you access to the best legal services available. The service provided was excellent throughout."
*Names may have been changed to protect the identity of our member
---
Read the latest news relating to: Accidents at work or away from work
More news