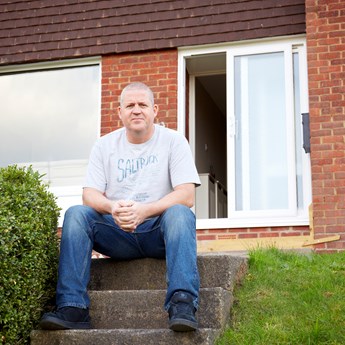 Richard W's story
My injuries have significantly affected my life. If the driver had taken a few extra seconds to assess the traffic on the road, things could have been so different.
Richard suffered multiple life-changing injuries after he was hit by a car and knocked off his motorcycle.
He was travelling on his motorbike at 30mph when a car pulled out from a driveway in front of him and attempted to do a U-turn. The driver, who had not properly checked the road before pulling out, left Richard with no time to avoid a collision.
As a result, the force of the collision threw him off his bike and underneath the car.
Richard suffered life-changing injuries including fractures to his arm, leg and parts of his face, a bleed to his brain and lacerations to his spleen. He was rushed to hospital where he had major operations to his arm and leg.
He now has limited use of his right arm and the severity of his injuries meant he had to take voluntary redundancy from his job.
As a member of Unite, Richard was entitled to legal support for his injuries. Unite Legal Services represented him and brought the case to a successful conclusion, securing compensation on his behalf.
Richard said:
"I've had to give up my hobbies and the job I loved because of what happened to me and my injuries will physically limit me for the rest of my life. Unite Legal Services really knew what they were doing and fought my corner to make sure I received compensation that allows me to come to terms with how life now is and to live as normally as possible."
---
Read the latest news relating to: Accidents at work or away from work
More news