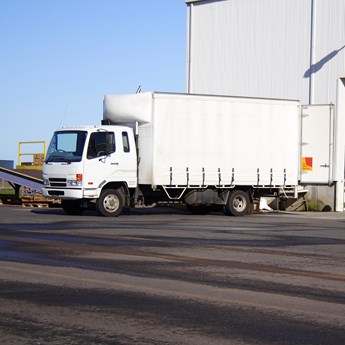 Scott's story
Thanks to the support of Unite Legal Services I have now received compensation for this accident and my employer has been forced to change its working practices making my workplace safer for all of my fellow colleagues moving forward
Scott was involved in an accident during the course of the employment as a LGV driver.
On the day of the accident, Scott was moving objects off of a trailer. In order to do this job, he had to adjust the bridge plate so that the trailer floor could be raised. The bridge plate was kept in position by two metal pins. He checked that both pins were in position and then went to remove the right pin when the bridge plate suddenly fell down, trapping his left hand. He sustained injuries to his left ring and middle fingers.
Due to the fault and negligence of Scott's employer, he had to work with equipment that had not been properly maintained and was broken. Scott's employer confirmed that a vehicle defect report had been completed on this trailer which highlighted a problem with the safety pins prior to his accident.
In the accident Scott sustained a crush injury to his left ring and middle fingers. He attended at hospital where his hand was placed into a splint and he had four weeks off work to recover.
Scott was supported by Unite Legal Services to claim compensation for his injury, in which a settlement was negotiated with the insurance company acting on behalf of his employer. No court action was required which meant that Scott was able to secure his compensation quickly and without the need to attend at court.
Unite Legal Services funded a medical report from a Consultant Orthopaedic Surgeon which assisted Scott's case by setting out the injuries that he suffered.
Negotiations commenced between Unite Legal Services and the insurance company, which saw an initial offer of £3,500 was put forward. Unite Legal Services did not think this was adequate for the pain which he suffered and this was offer was rejected. A further offer of £5,500 was put forward in full and final settlement, which was also rejected.
The final settlement reached for Scott was £6,000.
Through Unite Legal Services, Scott accessed expert legal advice, which ensured that negotiations relating to his case began in early course and that he received 100% of compensation secured for him.
Scott said:
"I was annoyed to find out that complaints had been made about this trailer prior to my accident and that my employer failed to properly address these complaints. This failure caused a serious injury to my left fingers.
"I would like to thank Unite Legal Services for all of their help. I would have no hesitation in recommending their services to any of my colleagues. They assisted me greatly during this stressful period."
---
Read the latest news relating to: Accidents at work or away from work
More news