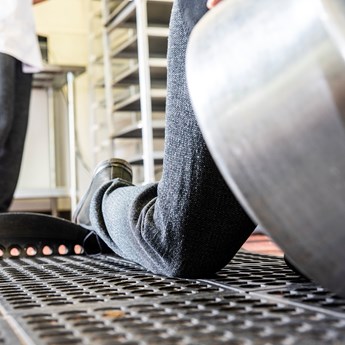 Stephen's story
Thanks to Unite Legal Services for all the support with my claim.
Stephen was employed as a chef by Sodexo Remote Sites Scotland Ltd on the Sean Romeo platform operated by One-Dyas North Sea Limited. As he left the control room, he slipped on a mat – which was incorrectly sized - and suffered a serious ankle injury.
As a result of the accident, Stephen suffered an open fracture of his left ankle and has been left with poor mobility. He now walks with a stick and may need ankle replacement or fusion surgery in the future. His ankle condition has left him at a permanent disadvantage on the open labour market and he is now unsuited for work that requires heavy lifting or extended periods of weight bearing.
Stephen contacted Unite Legal Services and was put in touch with a specialist personal injury solicitor to discuss his accident.
Court action was raised in the Court of Session in respect of Stephen's accident against both Sodexo Remote Sites Scotland Ltd and One-Dyas North Sea Limited.
A proof hearing was set down at the Court of Session for 15 March 2022.  In advance of the proof hearing, a tender was received in the sum of £200,000.  Following our legal advice, Stephen rejected that offer and a settlement was eventually agreed for £280,000.
As this case was funded by Unite Legal Services, Stephen retained 100 per cent of his compensation.
Stephen said: "I would recommend Unite Legal Services. My solicitor was a great support."
---
Read the latest news relating to: Accidents at work or away from work
More news