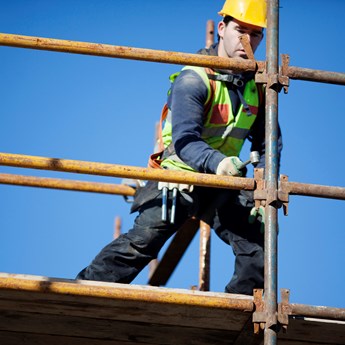 Stuart B's story
Thanks to the support of Unite Legal Services, I have now received compensation for this accident and look forward to moving on with my life.
Stuart was involved in an accident while working as a scaffolder on a platform in the North Sea. 
A 6ft scaffolding pole had been left against a wall by a colleague and, as Stuart was dismantling scaffolding nearby, the pole struck him on the right foot, causing a fracture. 
The colleague who left the pole against the wall didn't follow his training, or that of a scaffolder's normal working practices, so a claim for compensation was put forward to his employer.   
Stuart contacted Unite Legal Services and discussed his case with a specialist personal injury solicitor. A claim was submitted to his employer and liability was admitted by its insurance company. 
Unite Legal Services funded a medical report from a consultant orthopaedic surgeon, which assisted Stuart's case further by setting out the injuries he sustained in the accident. The report confirmed that he had a fracture to his right fifth metatarsal, and as a result he was off work for six months. 
An offer of £12,920 was put forward in respect of Stuart's case, which he rejected. A further offer of £13,500 was put forward in full and final settlement, and Stuart was happy to accept. 
As a member of Unite, Stuart had access to expert legal advice, which ensured he kept 100% of his compensation without the need to attend court. 
Stuart said:
"I would like to thank Unite Legal Services for all of its help. I would have no hesitation in recommending its services to any of my colleagues. I would not have been able to do it without them."
---
Read the latest news relating to: Accidents at work or away from work
More news