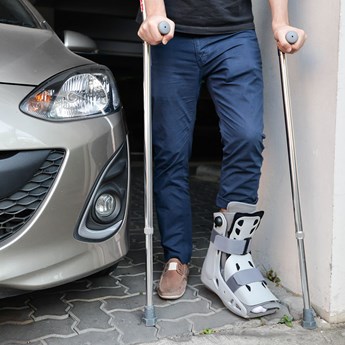 Timothy's story
Water on the floor is an accident waiting to happen, but my employer didn't think so. Unite Legal Services got behind me to make sure I was represented during a really difficult time.
Timothy, an aircraft fitter for GKN Aerospace Services, suffered serious back and leg injuries after he slipped on a pool of water that had leaked from a machine.
Timothy had already reported the fault to his employers but they failed to fix the leak, leaving him and other workers at risk of potential injury.
The fall damaged his knee and aggravated a pre-existing back injury. He is now forced to wear a leg brace which severely reduces his mobility and was advised by his doctor to retire early on the grounds of ill health.
Timothy contacted Unite Legal Services for support on how he could pursue a compensation claim for his injuries.
Timothy said:
"Despite telling my employer time and time again about the leak, they failed to do anything about it. My accident was avoidable; I shouldn't have had to retire early, wear a leg brace or suffer financially because of an accident that was not my fault.
"Considering I worked at the company for 40 years, they even failed to pay me my pension for more than two years after I retired. Without Unite Legal Services I don't know where I would be. I had full support from a solicitor who worked hard to make sure my employer was held to account for the damage they caused, making sure I received my pension payments and a lump sum to help compensate for what happened to me."
---
Read the latest news relating to: Accidents at work or away from work
More news