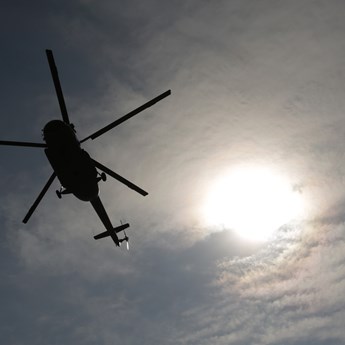 Toby's story
I cannot believe that I have been subjected to such a horrific accident due to the negligence of the helicopter company who were responsible for transporting us safely. Thanks to the support of Unite Legal Services I have now received fair compensation for this accident.
Unite member, Toby Croft, was involved in an accident during his employment as an electrician when he was working off shore. On the day of the accident, Toby was in a helicopter when it plummeted into the sea off the coast of Shetland.
Toby managed to escape from the helicopter by using his elbow to break a window. He then climbed out the helicopter and also assisted his fellow passengers. Fortunately, Toby was able to hold onto the helicopter wreck before being rescued by another helicopter.
As a result of the accident, Tony suffered injuries to his ribs, neck, back and right elbow. He also developed severe psychiatric injuries including post-traumatic stress disorder and obsessive compulsive disorder.
Toby contacted Unite Legal Services to investigate a compensation claim.
The difficulty with Toby's case related to the Montreal Convention, which covers accidents at air and sea. In the first instance, court proceedings must be raised within two years of the accident happening.
Another difficulty in Toby's case was that in an aircraft accident, the Montreal Convention precludes the claiming of post-traumatic stress disorder when there is no actual bodily injury. To qualify for actual bodily injury there would need to be a direct link between the injury and the psychiatric condition which a person has developed. For example, a person developing a psychiatric condition as a result of being left paralysed.
Through Unite Legal Services, Toby was able to consult with Senior Counsel who considered that, in line with cases which had progressed through the courts in the USA, specific tests should be carried out on Toby's brain to show physiological movement within the chemicals of the brain which may convince a Scottish Court that such physiological movements amounted to an actual bodily injury. Due to Toby's anxiety, he was unable to undergo these tests.
Unite Legal Services funded a medical report from a consultant orthopaedic surgeon and consultant psychiatrist, which assisted Toby's case by setting out the injuries he sustained purely as a result of the accident at work. The medical report confirmed that Toby had suffered from post-traumatic stress disorder and had developed obsessive compulsive disorder as a result of the accident. He couldn't return to work following the accident because of the anxieties he experienced following the accident.
The case was due to proceed to Proof in the Court of Session on 8 March 2016. The Defenders were extremely concerned regarding the publicity given the high profile nature of the case. An out of court negotiation was reached in Toby's case in the sum of £335,000. As this case was funded by Unite Legal Services, Toby retained 100% of his compensation.
Toby said: "Thank you to Unite Legal Services for all of their help. I simply would not have been able to do this without them. I am now attempting to put this accident behind me and move forward with my life."
---
Read the latest news relating to: Accidents at work or away from work
More news