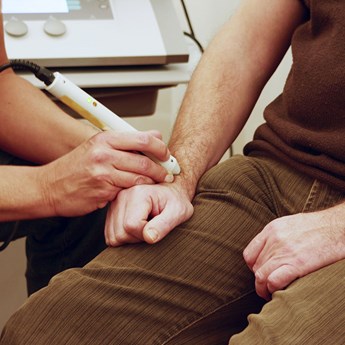 Tom's story
I was really pleased with the support from Unite Legal Services. It came just at the right time for me.
Tom*, a HGV driver, sustained an injury to his wrist following an accident at work.
Tom fractured his right wrist and injured his shoulder, lower back and neck while unloading goods from a HGV at a supermarket. As he tried to pull himself up onto the trailer, so that he could remove the restraining strap and unload the vehicle, the strap came off and he fell heavily onto the concrete floor.
An investigation found that the strap was worn, which caused it to break. The investigation also found that Tom's employer had failed to maintain and provide safe work equipment.
Tom required ongoing physiotherapy for his wrist and due to continuing pain in his back and neck, was unable to return to work as a HGV driver.
Tom contacted Unite Legal Services following his accident. His employers admitted full liability and, following negotiations, Unite Legal Services was able to secure significant compensation for Tom and bring his case to a successful conclusion.
Tom said:
"I would rather not have had the accident in the first place, but this compensation means I have been able to get proper rehabilitation. I'm not quite back to what I was, but I'm getting there thanks to Unite Legal Services."

* Names may have been changed to protect the identity of our member.
---
Read the latest news relating to: Accidents at work or away from work
More news