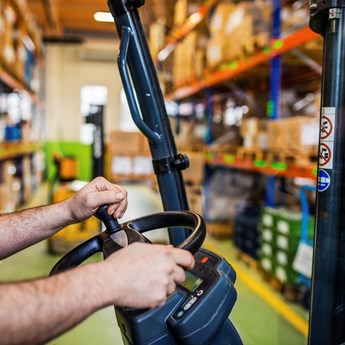 William M's story
I cannot believe my employer's casual attitude towards health and safety resulted in a serious injury to my head. Thanks to the support of Unite Legal Services, I have now received fair compensation for this accident.
William Muir was involved in an accident during the course of the employment as a warehouse operative.
On the day of the accident, William was offloading a multi-deck trailer. He was using a ride-on pallet truck in which he was required to stand on to complete the job.
He was forced to lower his head in order to get onto the ground floor of the multi-deck trailer he was loading. As he did this, he caught his head on the underside of the second floor of the trailer and sustained an injury to his head and neck.
William was subjected to unsafe and dangerous working practice. His employer was aware of the problem with the multi-deck trailers and the lowering of the second floor as complaints had been made by William and his colleagues prior to his accident, yet it failed to rectify the issues.
As a result of the accident, William sustained a laceration to his scalp. He also suffered an exacerbation of underlying degenerative changes in his neck and pain to his left shoulder and arm.
William was supported by Unite Legal Services to claim compensation for his injury, in which liability was admitted by the insurance company acting on behalf of William's employer.
A pre-litigation offer of £15,000 was put forward, which Unite Legal Services rejected and decided that court proceedings should be raised in the Court of Session, Edinburgh. Liability was admitted by the solicitors acting on behalf of William's employer once court proceedings had been raised.
Unite Legal Services funded a medical report from a Consultant Orthopaedic Surgeon, which assisted William's case by setting out the injuries that he sustained. The medical report confirmed that William had suffered an exacerbation of underlying degenerative problems in his neck by a period of three years. He was unable to return to work following the accident due to the ongoing pain which he experienced in his neck.
An offer was made in William's case in the sum of £60,000. This offer was discussed with William and was rejected. A further offer of £65,000 was put forward which William accepted, five days before the case was due to appear in court.
Through Unite Legal Services, William had access to expert legal advice, which ensured that he kept 100% of his compensation and allowed him to move on with his life.
William said:
"Thank you to Unite Legal Services for all of their help. I simply would not have been able to do this without them.
"I am now attempting to put this accident behind me and move forward with my life."
---
Read the latest news relating to: Accidents at work or away from work
More news